BGMI removed from the Google Play store, yes. BGMI not banned or removed for one user. Check below.
Again the news that Play store has been removed the tech youtube Shlok shirt tv also tweeted about the matter.
SHARE THIS NOW. Proofs are below.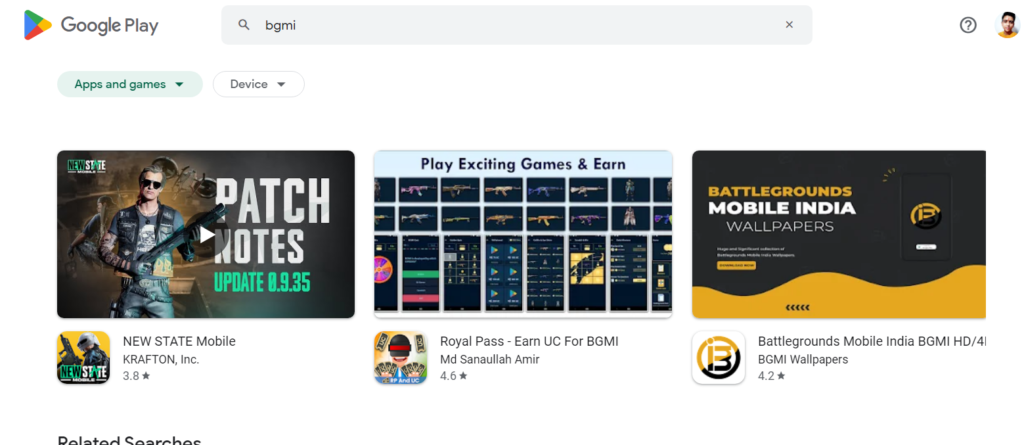 Battleground Mobile India on 28 July 2022 being removed from Google play. It is not available for Download anymore. Only those who already have the Game can still play it. However, BGFMI cannot be downloaded from GOogle Play from today (28 July).
BGMI removed, please read below as to how to download BGMI
Many BGMI players were experiencing a pleasant surprise when they found out that their favourite game had been removed from the Google Play Store.
When searching on the Android platform's native app store, no search results are being provided to users who searched the term BGMI
BGMI Ban/Delete User reaction
Many twitter users were reacting to this event, when Google Play removed the BGMI.
Reason: There's nothing cleared yet, whether Battle Ground mobile India is banned or not. However, Now users cannot find or download it forem Google Play anymore.
BGMI Not Removed from Google Play Proof | BGMI not banned ofr him
There's one user on twitter who says he can still access the BGMI from Google Play, Sharing the Image below.
Do Share this.
Share this on WhatsApp, FB, Instagram. Kindly. Only TOP 0.1% of BGMI (gamers) will share.
Why BGMI banned?
Last week, Rajya Sabha MP V Vijayasai Reddy had asked if the IT Ministry was taking action against apps like PUBG where "some children have also committed crimes when they were restrained from playing the game".
To this, Minister of State for Electronics & IT Rajeev Chandrasekhar had responded: "There are various reports and grievances received in Ministry of Electronics and Information Technology (MeitY), conveying that apps that were blocked are appearing with new avatar by using similar sounding names or rebranded with the same functionality. All such reports and grievances have been forwarded to Ministry of Home Affairs (MHA), the requesting agency, for examination. MeitY follows the due process as defined in the Information Technology (Procedure and Safeguards for Blocking for Access of Information by Public) Rules, 2009″.
BGMI Ban Reason
"There was a media report that a child has killed his mother based on PUBG that he has been playing. This is a matter of investigation by LEAs to find the reason. But, the PUBG gaming app was blocked by MeitY in the year 2020 and the PUBG game is not available in India since then," Chandrasekhar added.
A Krafton spokesperson said: "We are clarifying how BGMI was removed from Google Play store and the App store and will let you know once we get specific information". Google confirmed that it has taken the game down from its Play Store in India after informing Krafton. "On receipt of the order, following established process, we have notified the affected developer and have blocked access to the app that remained available on the Play Store in India," a Google spokesperson said.