Smartphones made our life too easy, like we can enjoy farming in our smartphones without even moving from one place to another. You can enjoy everything like cleaning and tending to livestock, plowing, planting and harvesting crops, tractor driving, and other general handiwork.
Farming games are games that can relax a mind and can help us to increase productivity. If you are a farm game lover and looking for the best farming games for your Android device, today I have some good news for you.
Is that today I am going to show you the 7 Best Farming Games for Android that you can play on your Android device and most of them are free?
Only for you, I will attach all the Gameplay videos with these games. So in that way, You can choose the best farming game.
Best Farming Games for Android
So here are the 7 best farming games on Android that you will love to play on your device.
1. Farm day Village Farming Offline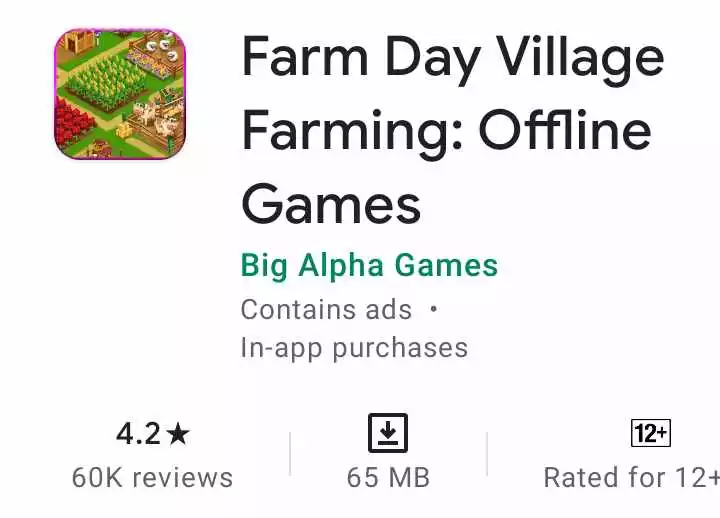 If you are finding an offline farming game that suits your needs then this is the one that you can play offline.
Gameplay:
This is an awesome game if you want to spend your time. Even when I tried this game I spent around half an hour. You want some of my friends to play this game for hours or two.
So overall it's a nice farming game that you can try on your Android device. And also this game came under 100 MB. It is around 69 MB, which means you will save a lot of space.
On that note let's move onto the second game of our farming game list.
---
2. FarmVille 2: Country escape
FarmVille 2 is a popular farming game with over more than 50 million downloads. Even though this game is not that big, it is around 146 MB.
Gameplay:
This game has everything you are looking for: fun planting crops, raising animals, plowing, harvesting, tractor driving, etc.
This is an awesome game if you are looking for an overall Farming simulator for android. I love this game so far but honestly speaking there are some ads and if you want to double your coins then you have to watch ads.
On that note, let's move onto our third farming game. Also Try: Best offline games for Android
---
3. Big Farmer: Offline farm game
If you want to become a big farmer, want to grow crops, and want to do everything that a farmer does, then this is an excellent pharming game.
Gameplay:
This game has more than 160 thousand reviews and that means it has a 4.33-star rating.
It is a game that all the farm lovers should have and the opinions might be different as compared to yours and mine but these differences make the world. The world has different types of people with different mentalities.
But this is not a comparison post, it's a list of the top 7 farming games. To compare it yourself and see which game suits you the best.
---
4. Blocky Farm
The blocky farm is one of the awesome-looking farming games that I had ever seen before because it is based on blocks.
Gameplay:
The game is super cute in its way and has awesome graphics and overall good control.
When I install this game on my smartphone I realize that it is one of the games with the cutest graphics ever that I have played. When I played Minecraft and then installed it after a few months, this farming game was just for you guys and I realized this is something similar to Minecraft, the graphics and all but overall the cute farming game.
Do you know which are the most popular farming games amongst others? If not then let me show you our next game on the list and that has more than a hundred million plus downloads so yeah you can say this is one of the most popular games which is listed on most of the YouTube videos and websites.
---
5. Hay day
Hay day is one of the great farming games that every farm lover should have and must try once this game has more than 12 million reviews and has more than a hundred million-plus downloads. That's insane, right?
Gameplay:
When I tried this game on my Android smartphone, the experience was a bit cool and everything looked so nice and the graphics were decent. Even this game contains ads and this point disappoints me a bit but overall looking at the graphics of this farming game and the plus point that we are getting in this game then it's alright.
On that note let's move on to our next game of the list which looks like Minecraft. In Minecraft everything is just blocked, the men are made from blocks, the chickens and the pigs are made from blocks(square) trees are made from blocks and the exact concept came with the next game of best farming games.
---
6. Family Farm Seaside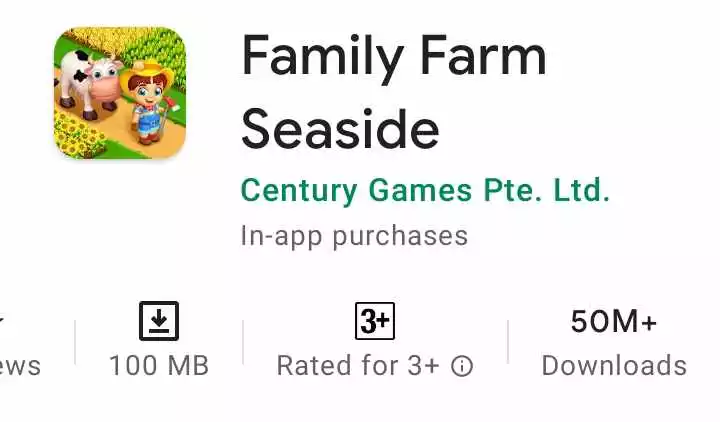 Family Farm seaside is an adventurous farming game and also it is a fun simulation game. You can raise farm animals and build your own house and your farmhouse, grow your crops, plant trees to whatever you want to.
Gameplay:
Honestly speaking this is an awesome farming simulator for Android. If you are always looking for an awesome game with decent graphics, I would recommend this game to you. Because this game has everything that you are probably looking for.
This game is around a hundred MB. That means it is an awesome game under a hundred MB. Although this game has 50 million downloads with a 4.3-star rating.
---
Conclusion on Farming Games
So that's it for today guys. Today I showed you the 6 best farming games that you should play on your Android device and for everyone where there are the basic things like how to harvest their crop, plant trees and ride text tractors, etc… Check More Games Here.
I hope you like this article which covers the 7 best farming games and let me know your thoughts on which game you can try or which you feel you want to install on your device. Let me know in the comments. I would love to see your comments below.