Here is how you can use iOS emojis on Android or Use the latest emojis 2022 without rooting or without paying extra money.
Many of you might want to use the new emojis of 2022 on your Android device or on iOS. Because recently iPhone released a new update in which ios users get new emojis as you can see in the below image.
Believe me or not, you can even use all these emojis on your Android or any smartphone.
I made it possible with an app and in today's tutorial I'm gonna teach you how to get new emojis on Android 2022. Following the exact tutorial, I am going to show in the article will help you to get new emojis 2022.
Let's dive into the tutorial for New Emoji 2022. Video tutorials is also given below.
How to Get New Emojis On Android 2022
So the first step to getting new emojis for Android is to install an app called zfont3 which is very helpful when it comes to adding new emojis to a device even when you don't get any updates.
1. Download Zfont 3
The first step, go to the play store, and search for the set. This app that will help you to add new emojis from a different OS like iOS and even from Android OS.
What is Zfont 3?
Zfont3 is an app that is used by most Android users. This app helps devices to get new emojis from different operating systems like iOS and Android. More about this App helps you to get new text fonts for your device to make your device look crazy.
2. Download the Emoji
After downloading the app open the app and here you will get a few texts you can add them to but we have to click on emoji. In this menu, you will see all the different emojis from the different OS. For example, here is the latest iOS update emoji update that you can use on your device.
Now select anyone or you can select all of them to add all the latest emojis from the iOS and Android operating systems.
3. Now Install the Download Emoji Pack
Tap on the install button to install the latest emojis of iPhone or the latest emojis of Android.
Right after installing, there are two simple settings that you need to configure on the device.
Settings 1
So in the first step, you need to change the language and region because when you install these new emojis by 2022 your region will be changed to Myanmar.
If it did not change automatically, try changing it to Myanmar. don't worry, it's not a hard process.
Settings 2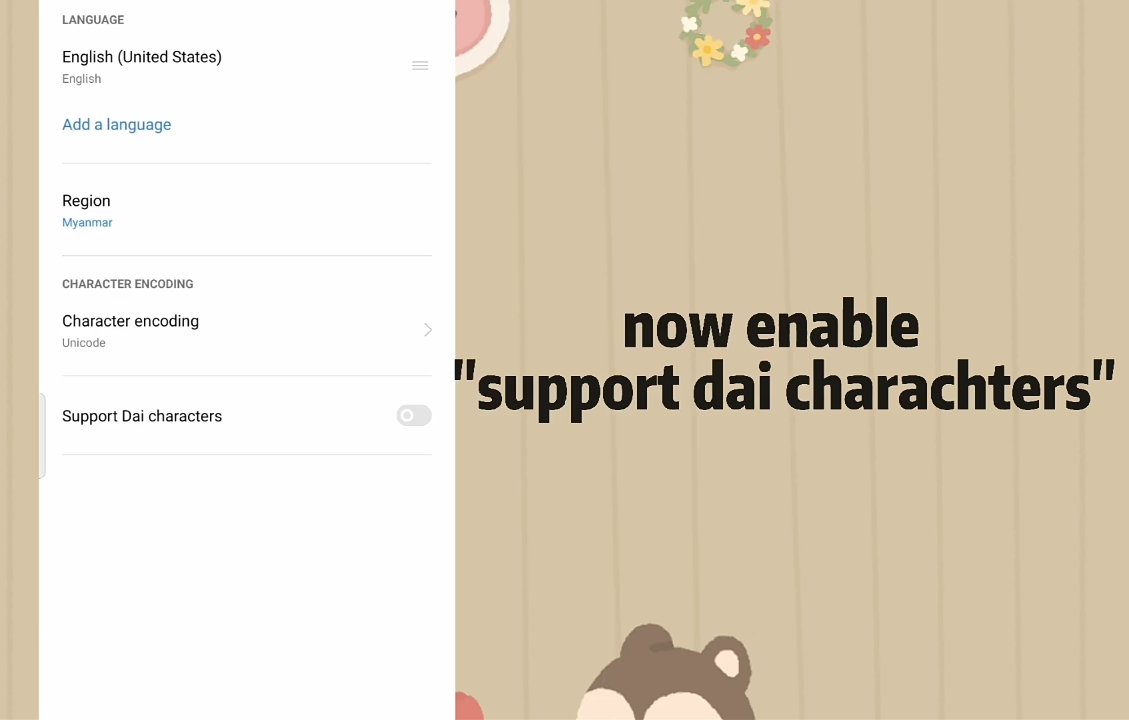 Now in this Android Settings, you will see a new menu card of "supporting dai characters". So turn on the "support dai characters" to use new emojis of 2022.
After following both steps you will see that all the emojis are now loaded into the existing keyboard. You don't need to change any keyboard app, you can use all the latest emojis of Android and even of iOS on your device.
Get New Emojis by Watching this Tutorial
However, the same app is available for iPhone users so they can get new emojis on their iPhones.
Conclusion : To get the new emojis 2022
I hope you found this article useful if yes then make sure to share it at least with anyone whom you believe the most.
That's all from us, we are backdroid, a website dedicated to Android.
Have a nice day, don't forget to share this article.
Today I showed you how to get new emojis 2022 or how you can get new emojis on your Android and iPhone.