Increase Font Size in WhatsApp: Do you use Whatsapp? Of course what a silly question it was. Nowadays everyone is using WhatsApp whether It's a Kid or an aged man.
But 67% of the people don't bother to change their font size in their Whatsapp Messenger and that's why they had to face an Eye Strain.
Here is a Fact that: Reading small print can damage your eyes or wear them out – Though reading in a fine print may cause eye strain, there is no evidence that doing so will damage the eyes. Source: Opto.
Today I'm going to show you "How to increase font size in Whatsapp" in just a few clicks so let's get straight into the Whatsapp Guide.
How to increase Font size in Whatsapp
So this is a complete guide to increase your font size in your WhatsApp messenger to get a smooth feel of it.
Change font size in Whatsapp
Open your Whatsapp Messenger
Go to the settings of WhatsApp by clicking on Three dots in the top right side.
Now tap on the chats option
Now find the Font size Option in whatsapp chats setting
Tap on Font size and then select as your comfort whether it's small or large.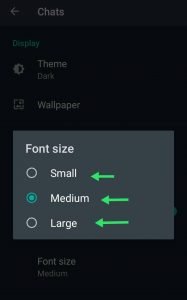 Personally I prefer medium font size in WhatsApp chats because I feel comfortable in it, So test those sizes in Whatsapp and see which is best for you.
Another post from Whatsapp Guide: How to write Bold Letters in Whatsapp
Hope so you finally change your WhatsApp font size into a larger One. Have a Nice day.